The Algorithm Museum
Project Purpose
The aim of this project is to implement the algorithms from Introduction to Algorithms (Cormen, Leiserson, Rivest, and Stein, henceforth CLRS) in as many languages as possible, for educational purposes. The versions we implement will contain printing of intermediate results at key spots, and eventually interactive features.
What Has Been Implemented
| Chapter | Java | Ruby | Go | Javascript | C++ | Python | Clojure |
| --- | --- | --- | --- | --- | --- | --- | --- |
| TheRoleOfAlgorithms | No | No | No | No | No | No | No |
| GettingStarted | Yes | Yes | Yes | No | Yes | Yes | Yes |
| GrowthOfFunctions | No | No | No | No | No | No | No |
| DivideAndConquer | Yes | Yes | No | No | No | Yes | No |
| RandomizedAlgorithms | Yes | Yes | No | No | Yes | Yes | No |
| Heapsort | Yes | Yes | No | No | Yes | Yes | No |
| Quicksort | Yes | Yes | Yes | No | Yes | Yes | No |
| SortingInLinearTime | Yes | Yes | No | No | Yes | No | No |
| MediansAndOrderStatistics | No | Yes | No | No | Yes | Yes | No |
| ElementaryDataStructures | Yes | No | No | No | Yes | No | No |
| HashTables | Yes | Yes | No | No | Yes | Yes | No |
| BinarySearchTrees | Yes | Yes | No | No | No | Yes | No |
| RedBlackTrees | Yes | No | No | No | No | No | No |
| AugmentingDataStructures | No | No | No | No | No | No | No |
| DynamicProgramming | Yes | Yes | No | No | No | Yes | Yes |
| GreedyAlgorithms | Yes | Yes | Yes | No | No | Yes | No |
| AmortizedAnalysis | No | No | No | No | No | No | No |
| BTrees | No | No | No | No | No | No | No |
| FibonacciHeaps | No | No | No | No | No | No | No |
| vanEmdeBoasTrees | No | No | No | No | No | No | No |
| DataStructuresForDisjointSets | No | No | No | No | No | No | No |
| GraphAlgorithms | Yes | Yes | No | No | No | Yes | No |
| MinimumSpanningTrees | No | No | No | No | No | Yes | No |
| SingleSourceShortestPaths | No | No | No | No | No | No | No |
| AllPairsShortestPaths | No | No | No | No | No | No | No |
| MaximumFlow | No | No | No | No | No | No | No |
| MultithreadedAlgorithms | Yes | No | No | No | Yes | No | No |
| MatrixOperations | No | No | No | No | No | No | No |
| LinearProgramming | No | No | No | No | No | No | No |
| PolynomialsAndTheFFT | No | No | No | No | No | No | No |
| NumberTheoreticAlgorithms | No | No | No | No | No | No | No |
| StringMatching | No | No | No | No | No | No | No |
| ComputationalGeometry | No | No | No | No | No | No | No |
| NPCompleteness | No | No | No | No | No | No | No |
| ApproximationAlgorithms | No | No | No | No | No | Yes | No |
Coding Standards
Our coding standards.
Project Leaders
Prashant Patel
Nandu Kalidindi
Dr. Eugene Callahan
Xiaohang Su
Zebin Xu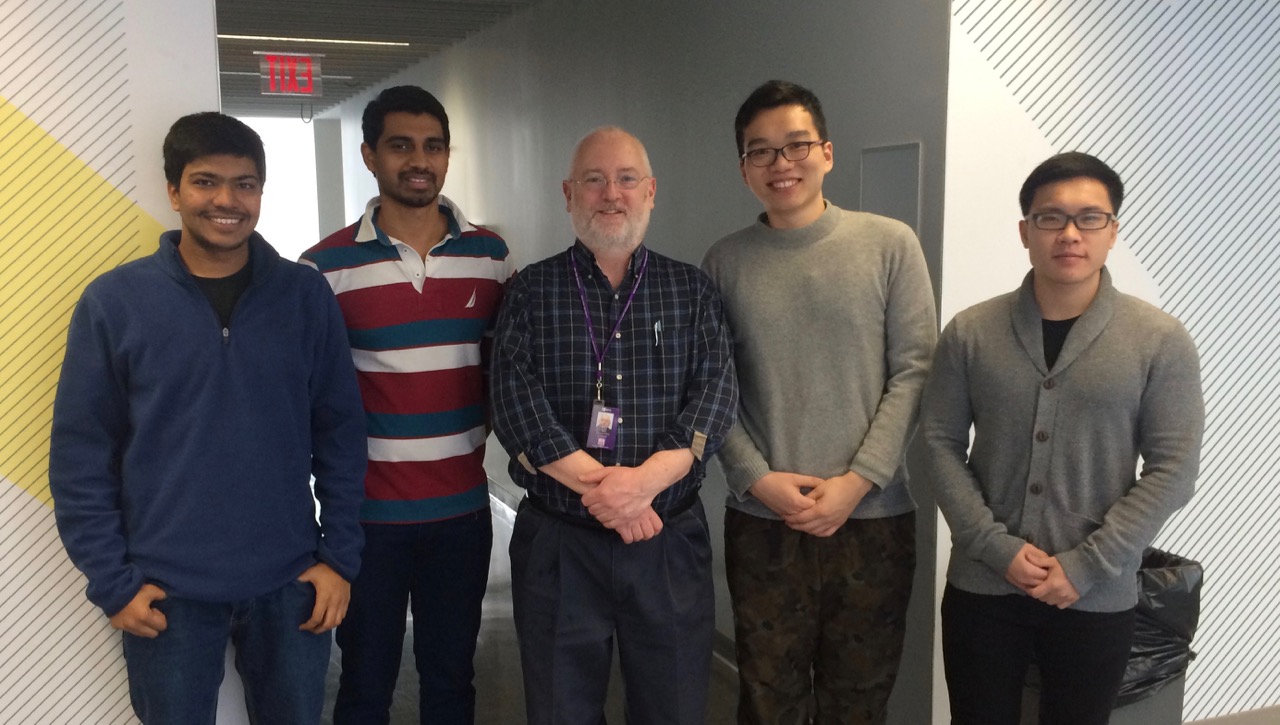 Other Contributors